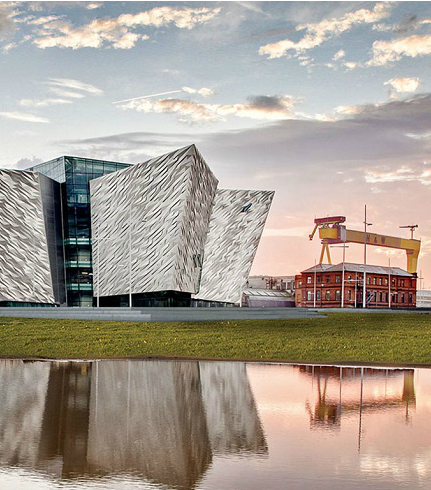 Explore Belfast
Titanic Belfast & SS Nomadic
Titanic Belfast is a 'must see' on any trip to Belfast and has become the most popular tourist attraction in Northern Ireland and one of the top attractions in Ireland. Titanic Belfast is located in beside the historic site of this world-famous ship's construction.

The Titanic experience is a state-of-the-art interactive exhibition, telling the story of RMS Titanic, from her conception in Belfast in the early 1900s, through her construction and launch, to her famous maiden voyage and tragic end. Its nine galleries are innovative and interactive with many features including diving to the depth of the ocean to explore where RMS Titanic now rests. The Titanic story is told at Titanic Belfast in a fresh and insightful way.
The last remaining White Star Line vessel, SS Nomadic, has been restored to her original glory and is back home in Hamilton Dock, beside Titanic Belfast. On board visitors experience over 100 years of authentic maritime and social history. The SS Nomadic ferried 1st and 2nd class passengers to Titanic from Cherbourg and was designed by Titanic's designer Thomas Andrews. She carried famous passengers including Charlie Chaplin, Elizabeth Taylor, Richard Burton and Nobel Prize winner Marie Curie.