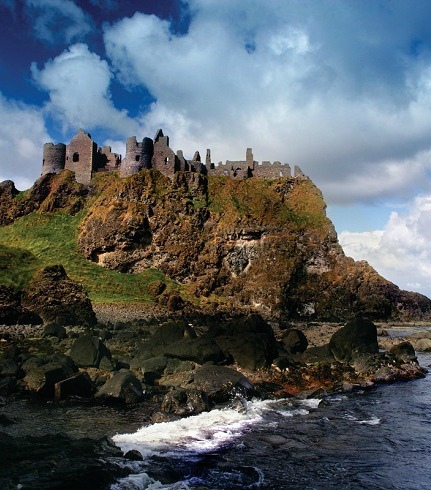 Day Trips
Causeway Coastal Route
The Causeway Coastal Route is rated as one of the top five road trips worldwide and when you drive it, you'll see why. It's an ever changing tapestry of scenery and colours, set against a dramatic coastal backdrop that will take your breath away.
An hour and a half drive will take you to the north coast and the ancient ruins of Dunluce Castle perched precariously on the headland cliffs overlooking the sea. A couple of miles away is the Old Bushmills Distillery, perfect for a quick distillery tour, coffee break or buying a wee dram of the famous tipple!
Following the coastline east for 5 minutes brings you to the Giant's Causeway, renowned for its polygonal columns of layered basalt, it is the only UNESCO World Heritage Site in Northern Ireland. The impressive, new world-class Giant's Causeway Visitor Centre is a fabulous way of learning much of the history, myth and legend. Some say it was carved from the coast by the mighty giant, Finn McCool who left behind an ancient home full of folklore. Look out for clues of his existence – including The Giant's Boot and Wishing Chair. Most believe it was formed over 60 million years ago, when molten lava cooled suddenly on contact with water, it is an awe-inspiring landscape of mostly hexagonal basalt columns. You decide!
Next stop is at the world-famous Carrick-a-Rede Rope Bridge 15 minutes down the road. The brave with a head for heights can make the terrifying trip across the bridge (weather permitting) which was originally erected by salmon fishermen over two and fifty years ago. For those who prefer to keep their feet firmly on land, you can take one of the exhilarating walks around the area and enjoy the stunning views.
You can follow along the Antrim coast passing through the beautiful villages of Cushendun, Cushendall and Glenariff with stunning scenery and unspoilt landscapes. Alternatively, you can head home via The Dark Hedges, the beautiful avenue of beech trees planted by the Stuart family in the eighteenth century. It was intended as a compelling landscape feature to impress visitors as they approached the entrance to their Georgian mansion, Gracehill House. Two centuries later, the trees remain a magnificent sight and have become one of the most photographed natural phenomena in Northern Ireland. In fact, the iconic trees have been used as a filming location in HBO's epic series Game of Thrones