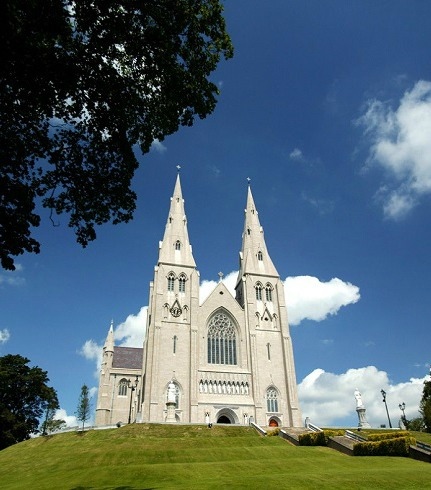 Day Trips
St. Patricks Trail
Renowned for converting Ireland to Christianity centuries ago, today St Patrick still fascinates as one of the most enduring of all the saints. Walk in his footsteps amid the solitude and beauty of Slemish Mountain, visit his grave in the grounds of Down Cathedral, and explore Patrick's capital, Armagh, where two majestic cathedrals bear his name. Saint Patrick's Trail is a 92mile linear driving route linking 15 key sites, all identified as having some connection to his life, legacy or landscape.
The North Down Museum in Bangor is a key Christian Heritage site, and the perfect starting point on any St. Patrick itinerary. It attracts pilgrims from Europe and the world over, who come to see where Saint Columbanus set out for Europe to rekindle Christianity in the Dark ages. The museum is also home to a copy of the Antiphonary of Bangor, one of the most important manuscripts from the early Irish Church and ninth century, Bangor Bell.
Bangor Abbey, founded in the 6th century by Saint Comgall is another must-see attraction. At the time of Saint Comgalls death in 601 it was one of the most important seats of learning in Ireland with almost 3000 monks.

The quaint and peaceful Saul Church in Downpatrick is said to be the first ecclesiastical site in Ireland and where Saint Patrick began his crusade to convert the Irish. Three miles from Saul is the magnificent Down Cathedral, where Saint Patrick is buried. Other sites of interest include: The Ruins of St. Tassach's Church (near Raholp), where Saint Patrick was given the last rites, or the holy wells at Struell, where Patrick is said to have sung psalms all night whilst naked! Today, they are more commonly known for their reputed healing powers.

Down Cathedral can also be seen from the vast ruins of Downpatrick's Inch Abbey. Situated in peaceful surroundings beside the River Quoille, this Cistercian Abbey was founded in 1180 by John de Courcy who led the 1177 Anglo-Norman Invasion of Ulster. For a truly interactive experience, The Saint Patrick's Centre takes you on a journey using film and video. The exhibition focuses on Patrick's own words, drawn from a confession made near the end of his life. Also nearby is Down County Museum, a Georgian county gaol, with an impressive collection of early Christian artefacts from carved stone crosses to works of art and material relating to the saint.

The final stage of our trail brings you to the city of Armagh. With elegant Georgian streets and tree-lined malls, Armagh is known as the ecclesiastical capital of Ireland. It is traditionally the seat of both the Catholic and Church of Ireland archbishops. Saint Patrick's Church of Ireland Cathedral occupies the site of Saint Patrick's main church. Centuries later, the St. Patrick's Catholic Cathedral was built. Marvel at the impressive combination of stunning architecture and stained glass windows. High on its hill, flanked by marble archbishops, work on it commenced in 1840 but was suspended due to the great famine, it was not consecrated until 1904.

Artefacts and collections of archaeological material reflecting Armagh's leading role in the early Christian Ireland, can also be found at Armagh County Museum. The 17th and 18th century books belonging to Archbishop Robinson can be found at Armagh Public Library.