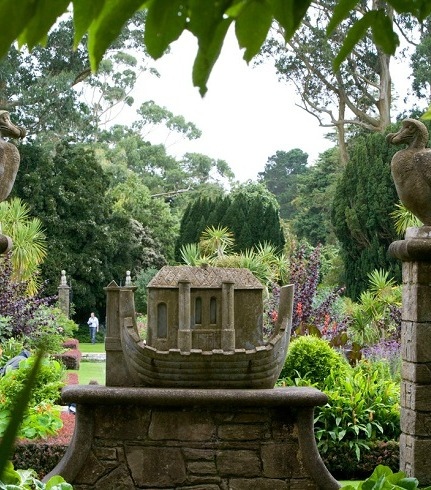 Day Trips
National Trust Houses & Gardens
The National Trust looks after many wonderful historic properties and scenic places in Northern Ireland. A "must see" on the list of gardens of the UK, if not the world, is Mount Stewart, County Down. Mount Stewart, on the shores of Strangford Lough, is Northern Ireland's most celebrated garden. Almost every style of gardening over the last two centuries is represented at Mount Stewart. The great diversity of styles and plants from every continent were ingeniously combined by Lady Edith Londonderry (1879-1959) to produce a garden of outstanding quality & character. To explore the planting around the 5 acre lake of the Mount Stewart garden in summer will always be a botanical thrill.
The Londonderry's family home at Mount Stewart reopened in April 2015 following a three year £7 million restoration programme. Visitors can explore the house at their leisure through free flow tours offering the opportunity to see nationally and internationally significant family portraits, other family treasures and the most significant silver collection in the Trust's care.
After visiting Mount Stewart take the ferry from Portaferry across Strangford Lough to Strangford town and make the short journey to Castle Ward. Castle Ward is full of personality. Situated in a stunning location overlooking Strangford Lough, the lawns rise up to the unique 18th century house and its Gothic façade. This fascinating house features both Gothic and Classical styles of architectural treatment, internally and externally.

Inside the 820 acre walled demesne you will find an exotic sunken garden and many enchanting historical garden features such as the Temple Water, an early eighteenth-century formal canal created to reflect the picturesque ruins of Audley Castle at one end and Lady Anne's Temple along one side.
If time allows, stop at Rowallane Gardens, Saintfield, on the way back to Newforge. Rowallane Garden is a true plantsman's garden with trees, shrubs and plants from around the world. Wander through the estate and see the spectacular displays of shrubs, natural Rock Garden Wood with shade loving plants, walled garden and attractive wildflower meadows.