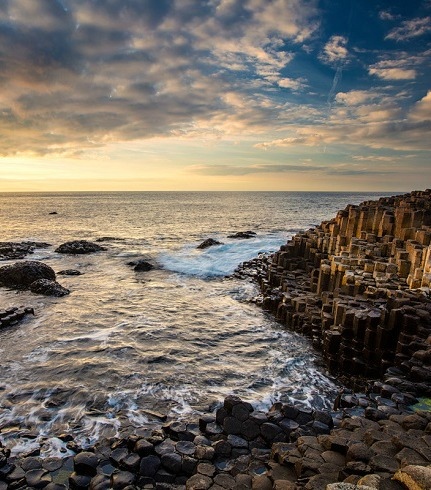 Explore Northern Ireland
Giants Causeway
Less than one and a half hours drive away the UNESCO World Heritage site, the Giant's Causeway, is a magnificent, mysterious geological formation on the North East coast of Co Antrim. The setting is a spectacular dynamic coastal landscape of Atlantic waves, rugged cliffs, geographical antiquity, secluded bays and magnificent views. The Causeway forms a jagged headland of neatly packed columns which point towards Scotland. Visitors can walk along the basalt columns which are at the edge of the sea, just over 1km from the entrance to the site.
They say the Giant's Causeway was the stomping ground of giant Finn McCool, who lived in these parts nearly two thousand years ago. How else can you explain the Chimney stacks that mark his house? The Organ he built for his musical son Oisín? Or the giant boot he left on the shore?

Visit the newly-opened Giant's Causeway Visitor Experience and explore the science, myth and legends that surround the Giant's Causeway. It is less than an hour and a half away.