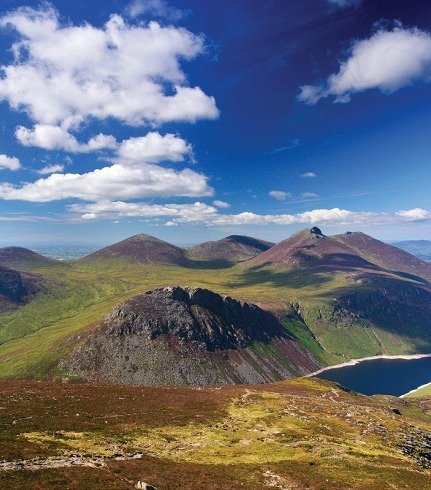 Day Trips
The Mourne Mountains & Coastline
The Mourne Mountains is home to Northern Ireland's highest mountain peak Slieve Donard and is said to have inspired C.S. Lewis' magical world of Narnia.
Only half an hour from Newforge, Rowallane Gardens near Saintfield is a great stopping point where you can take leisurely stroll among the unusual plants, colours, sculptures and magical features in one of the most beautiful gardens in Northern Ireland.
A further 30 minutes south to the coast takes you to Dundrum Castle, a Norman castle founded in 1177 by John Decourcy following his invasion of Ulster. Locals believe it to be haunted by his ghost! Nearby is Murlough Nature Reserve, managed by the National Trust, it is the most extensive example of dune heath in Ireland and a network of paths and boardwalks takes you through the dunes to one of County Down's most stunning beaches.
The coastal route will then take you through the seaside town of Newcastle and its amazing view of Sleive Donard sloping down to the Irish Sea. You may like to stop in Newcastle, Northern Ireland's Ice-Cream capital, to sample some local gelato in one of its numerous cafes. Both Castlewellan and Tollymore Forest Parks offer delightful walks through ancient woodland with stunning views of the Mournes and the coast.
A trip up to Silent Valley Reservoir is a must. Ringed by the Mournes, 'The Valley', located within the Mourne Area of Outstanding Beauty, is a place to absorb the stunning scenery and walk the unique landscape. The famous Mourne Wall was constructed to enclose the reservoir's catchment area, built between 1904 and 1922 by the Belfast Water Commissioners. It was crafted from natural granite stone using traditional dry stone walling techniques. It is 22 miles long and passes over fifteen of the Mourne's summits. Northern Ireland's equivalent of the Great Wall of China!